About the Head and Neck Cancer Center at the Orlando Health Cancer Institute
Our Head and Neck Cancer Center is a healing environment that offers you every advantage in oncology (cancer) care. Through high-quality diagnostics, treatments and research, we deliver the best possible outcomes.
We understand how difficult the journey through cancer can be. Our goal is to be there for you in every way we can. Our team of knowledgeable, compassionate physicians and other team members are focused on helping you overcome this condition and giving you hope.
Knowing the risk factors and possible causes for head and neck cancer can give you a better understanding of your condition. Many head and neck cancers are linked to some degree to lifestyle-related risk factors. At least 75% of these cancers are linked to tobacco use of any sort or alcohol use. Those who use both tobacco and alcohol are at an even greater increased risk. Head and neck cancers are also linked to cancer-causing types of HPV, the most common sexually transmitted infection in the U.S.
Our team will help you comprehend your head and neck cancer diagnosis, treatment plan and outlook, so you are empowered to make decisions about the care you receive.
Experts in Head and Neck Cancer Symptom Evaluation
Head and neck cancers can cause many different symptoms. This wide range of possible symptoms makes the involvement of one of our physicians during a diagnosis particularly important. Our experts may be able to connect seemingly unrelated symptoms and make sense of your health concerns.
Head and neck cancer symptoms to watch for include:
A lump or sore in the mouth or on the tongue that doesn't go away
A white or red patch on the gums, tongue or lining of the mouth
Unusual pain or bleeding in the mouth
Problems with the fit and comfort of dentures
Swelling in the jaw
A sore throat that doesn't go away
A change in the voice or ongoing hoarseness
Persistent pain in the neck area or throat
Difficulty or pain when swallowing
Frequent headaches
Ear pain, ringing ears and difficulty hearing
Difficulty breathing
Pain in the head and neck region that doesn't go away
Numbness or paralysis in the facial area
Swelling of the eyes and other difficulties
Sinus infections that don't respond to treatment
Sinuses that will not clear
Nosebleeds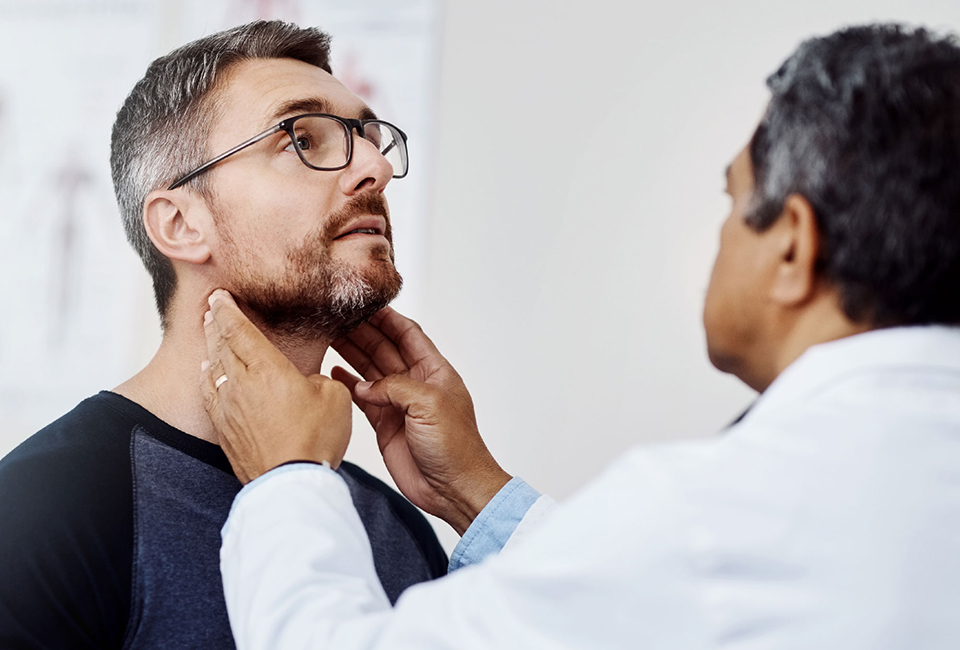 Meet the Head and Neck Cancer Center Team
Our team is made up of highly skilled medical oncologists, radiation oncologists, surgical oncologists, dental oncologists and reconstructive surgeons who specialize in head and neck cancers.
Our team also includes a certified nurse navigator who coordinates patient care from diagnosis to survivorship, removing some of the burden from patients' and families' shoulders.
Clinical Trials

When appropriate, we also offer our patients the option to participate in clinical trials to try a promising new medical drug or other treatment.

Conditions and Treatments

Making treatment decisions can be overwhelming. Our promise is to work with you to find the best treatment plan for you or your loved one.

Resources

At the Orlando Health Cancer Institute, we strive to support patients and families in every way possible.